>> onsdag den 8. juni 2011
Min onsdag blev der vendt lidt op og ned på. Rigtigt skulle jeg have været inde med min letterman's jakke og på posthuset ved middagstid, og så spise aftensmad sammen med nogle venner på The Strip.
Vi blev dog nødt til at rykke vores aftale til frokost i stedet for, så omkring kl. 12 satte vi kursen mod hotel Excalibur. Det var alle os europæiske udvekslingsstudenter - Noora, Kira, Selina, Christian, Patrick og jeg - plus Eric og en af drengenes værtsbror.
Vi spiste på Dick's Last Resort, som er en ret speciel restaurant. Tjenerne er uhøflige, kalder dig grimme navne, råber ad dig, smider tingene på bordet, og hvis du er "heldig" får du en papirhat med en fornærmende kommentar. Pga. bandeordende og de andre fornærmelser (inklusive seksuelle hentydninger) skal man egentlig være 18, men de var bare "you're all 18 right?" og vi var "yeaaaaaah... sure!" haha.
Det var en helt unik oplevelse, og jeg er virkelig glad for endelig at have prøvet at være der! Alle os piger fik hver vores papirhat. Kira's sagde "I only look cheap and easy," Noora's sagde "I stuff with kleenex," Selina's sagde: "It's against the law on how I passed school" og min sagde "Future trailer park white trash". Ret morsomt, hvis man forstår hentydningerne ;)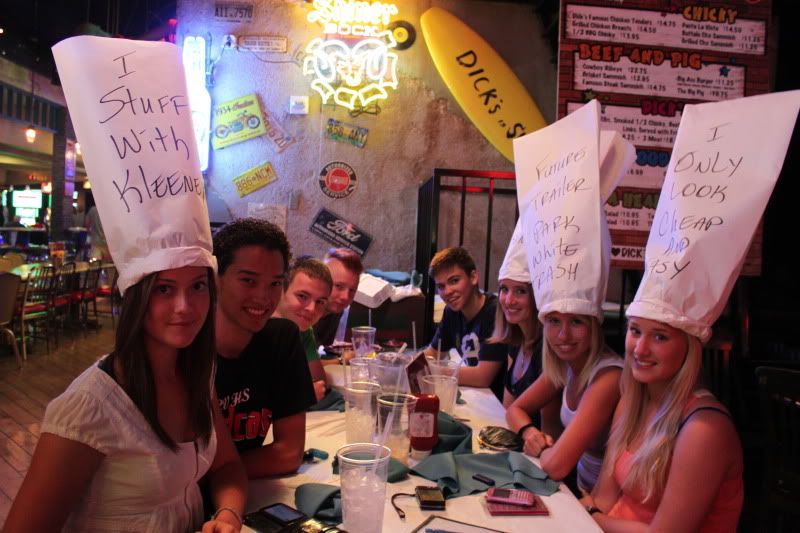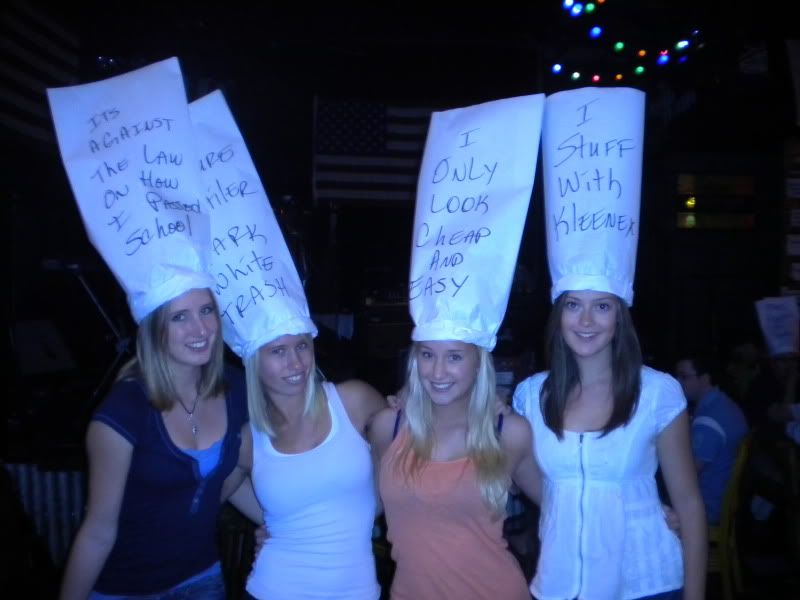 Om aftenen tog jeg med Kira til Senior Sunset på skolen, hvor alle seniorne mødes for at se et slideshow med billeder fra året, spise aftensmad og se solnedgangen. Egentlig er jeg en junior, men jeg tog bare med for at sige farvel til de få seniorere som jeg kender, og for at se skolen en sidste gang.
Senere, da jeg var kommet hjem, besluttede Selina og jeg helt spontant at tage i biografen og se The Hangover (Part II), så vi fik et lift til Sam's Town. Den er R rated, så man skal egentlig være 18 (igen!), men vi kom selvfølgelig ind uden at vise ID. Amerikanske regler er de rene jokes!
Det var seriøst den skøreste og mest sindsyge film jeg nogensinde har set. Jeg kan slet ikke beksrive hvor fucked up den var, det er helt vildt! Jeg elskede hvert sekund, og kunne knap nok holde op med at grine. Fantastisk film med syg humor, som alle bare må og skal se! Har DU set den endnu?
Jeg ønsker mig forresten The Hangover (nr. 1) på dvd, hvis nogen mangler en ide til en fødselsdagsgave ;)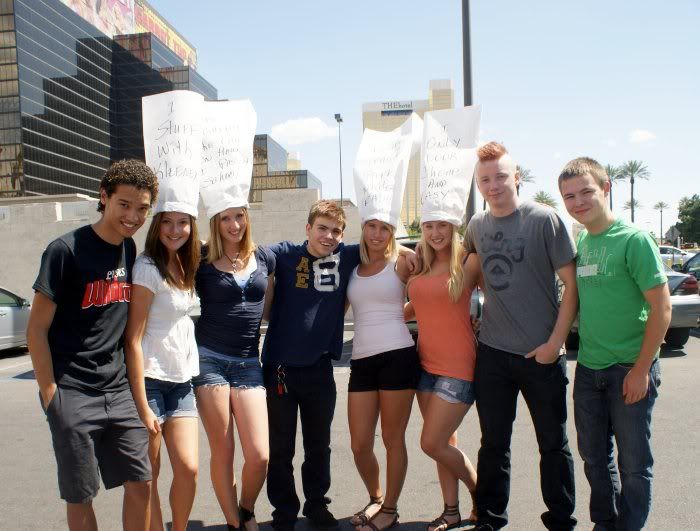 Eric, Noora, Selina, Timmy, mig, Kira, Christian og Patrick.